I was at the animal shelter the other day when an ugly little one eyed dog caught my eye. So I adopted him. He's an older dog. I just knew he didn't have a chance. He was a little shy and ugly as can be. I'm going to work with him and try to find him a home. My boyfriend would kill me if I actually tried to keep him. He's totally traumatized (the dog, not my boyfriend). He's very scared and timid but will lay next to you for hours if you just get him comfortable… and this morning he woke up, did the cutest stretch you ever saw and then kissed my nose. So, there is some hope for him. I googled some information on working with traumatized dogs and thought I'd share that information with you now. I know that a lot of us foster or have rescued a dog that has been traumatized in some way and it's good to know there is hope, and at least be aware of the things you should and should not do when you are dealing with a traumatized dog.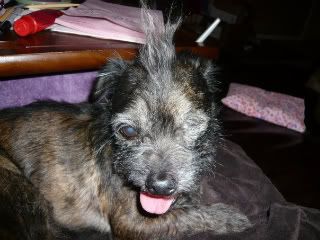 Here are some simple suggestions that will help you train your Traumatized Pet!
- First you might want to try some Relaxation exercises. Reward your dog only when he or she is calm and relaxed. Try to sit for 20 minutes a day in a calm and relaxed state with your dog in your lap or by your side. You can pet him/her or massage them if that helps. Sit in the quiet at first, then gradually add noises and distractions like the TV, hand claps, the vacuum cleaner, blender and other noises to help him/her learn that these sounds are nothing to be afraid of. Give treats to help your dog associate these sounds with happy memories.
- Do your best not to trigger the fear in your dog. When you first get your dog you're going to have to avoid reprimanding your dog for bad behavior or else you will just traumatize the dog more. When your dog is more comfortable you can kick in with the discipline to train your dog.  You need to do everything you can to make your dog feel safe. Training is useless if your dog is feeling timid and shy. Don't yell or make sudden movements around a scared/shy/timid dog. Do things to help build up his/her confidence and comfort level.
- Get down on his/her level. You will want to crouch down. Some dogs are intimidated by people standing over them. They may have been beaten or kicked by someone standing over them and you do not want to trigger these memories. Get down, eye to eye with your dog, talk soothingly and reward with treats or loving strokes.
- Establish a schedule for your dog. Try to walk him or her at the same time every day. If potty training is an issue you may want to crate/kennel the dog at nights or when you are not home so that he/she is safe and happy and you don't come home to accidents that you are unable to reprimand him/her for.
- If your dog does some odd things that's okay. Let him/her do strange things, as long as it's not harmful to humans or pets, it's okay.
- Find another dog of similar size to socialize your dog. Dogs are sometimes scared of people but comforted by the presence of another dog.
- As time goes by and your pet is more comfortable you can gradually increase limits and rules for your dog. You'll need to let some things slide in the beginning but as time goes by it's okay to increase discipline. You just don't want your dog to regress when he/she is punished or reprimanded so be careful but rules and limits are good for dogs.
If you have any other suggestions or ideas please feel free to put them in the comments!
---